My photography backpack - tommaso Di donato
a detailed description of everything I have in my backpack when going shooting. Photography gear, useful items and related links
If this is your first time on my blog, probably I have to tell you a little "disclaimer": I am not the kind of photographer that push hard on new gear. I really prefer to save money, get only what I really need... and most of all, understand if my photography really needs more bucks for new gear. So, in other words, I am not a tech fanatic and I am not affected by GAS (Gear Acquisition Syndrome)
Said that, it is very important to underline that there are items on which it is not possible to save money! The filters, for example: the difference between an average quality filter and a good one is really impressive, and it does not make sense to save bucks on them. Especially because they are supposed to last many years (as long as you treat them well), and the price difference is not enormous.
Many guys ask me about my photographic equipment... what I use, why I chose this particular item over another, etc. So I decided to write this post, just to clarify my choices. I will try to share with you the whole decision process, so you can decide by yourself if it makes sense or not.
When possible, I will add a link for buying online (buying from the links posted here won't cost you more, but this way you will support my blog... so thank you in advance!).
The backpack
I tried some photo bags, mainly backpack because for a landscape photographer it is quite normal to have a long walk in order to get on the location. During my "DSLR age" I used an old Lowepro.... big, sturdy, quite comfortable, with a lot of internal place for items, lenses, etc. The only thing I never loved about it was the inability to carry other things, in addition to photo gear (for example, a spare t-shirt, a wind jacket, etc). The only available place was the slot for the PC. It could be enough for a few hours walk, but absolutely not good for a 1 or 2 day hike.
I was looking for a trekking backpack, with a separated area/bag for photographic equipment. Something that could be removed from the main backpack, and small enough to leave place for clothes and other things.
Laowa had some good products, but honestly they are too expensive for my personal taste.
So I decided to think out of the box, and try a completely different approach: take a backpack made for hike/outdoor adventures, and adapt it as a photo bag.
I come from military education, so my first though was the brand 5.11 Tactical: as stated on the website, "5.11 Tactical apparel and accessories are built to provide unmatched reliability and performance when it matters most". I decided for the Triab 18 sling backpack: it was the best compromise in terms of dimension, and it possible to use it both as a normal backpack and as a versatile one strap sling bag. Now I have 2 different configurations: 2 straps for "regular hiking" or when I have to carry heavy weights, and 1 strap when I need to keep the backpack on (for example, in the water or other conditions in which I can't put the bag on the ground), but I need to easily access the internal. Here a picture to show the ease of use: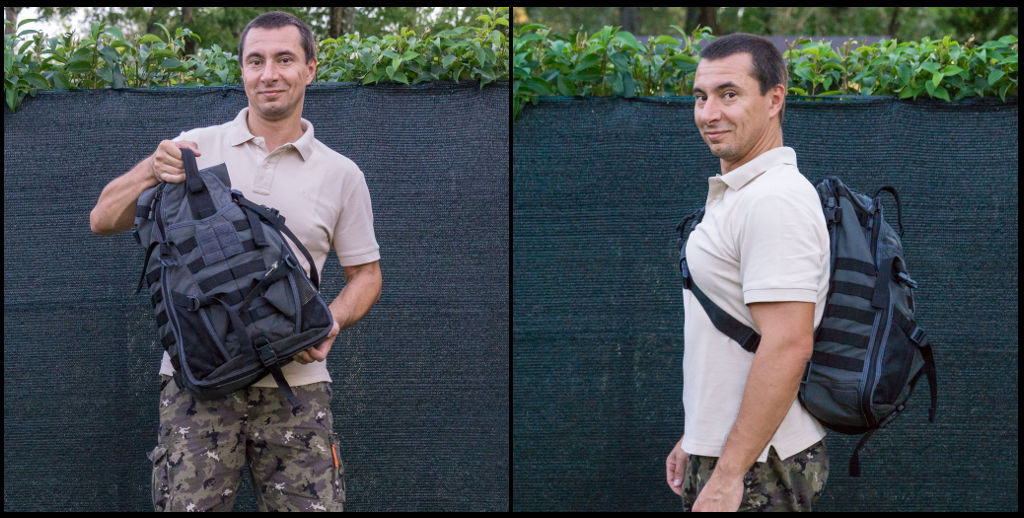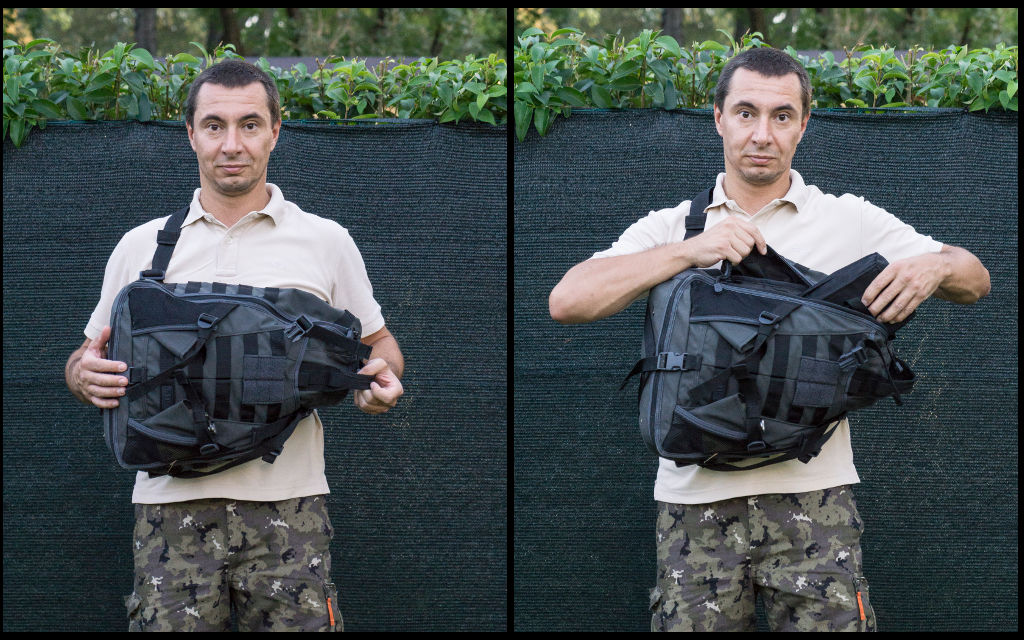 To keep camera and lenses safe, I bought separately from Amazon a padded "box": this way I can carry around my camera with a lens mounted, plus 2 more lenses. Usually it is all I really need.
Pros:
* I have a professional backpack, sturdy and perfect for other usage too
* 2 configuration (1 or 2 straps)
* Possible to access the content without taking the backpack off
* Spare room for other thing (clothes, PC, rain jacket, etc)
* a bit cheaper than a regular photo backpack
Cons:
* it is not water proof
This is the only thing that I really miss. But it is an easy problem, because for few bucks you can buy a cover.
The camera
I am a proud mirrorless guy.
Yes.
I know... batteries do not last long, they are too small for big handed guys, there are not so many lenses out there.. I know all those things... But I really love my Sony Camera! I love the optical viewfinder, I love the compactness and lightness, I love the fact that native lenses are so damn small... I love the way it is freakin' easy to focus on the stars even on the darkest night.. but most of all, I really love the dynamic range of my Sony a7R2. It is so f#%&ing high that I nearly don't have to bracket my shots anymore (for creating HDR images).
To keep the long story short: why I prefer this camera, to a Canon or a Nikon DSLR? I have nothing against Canon, but I never tried one, so I don't want to speak about something I don't know really well. Compared to Nikon (I had the D610) I suggest you to read my old article here.
Since then, I upgraded to the mark 2 (only because Sony does not release updates to the first family, and this is a shame!).
Anyway, I find my Sony a7RII a really perfect camera for landscape photography. Moreover, with an improved AF, it is excellent also for portraits. Sony mirrorless cameras are something that you love completely, or you terribly hate. Nothing more to say (it would take an entire article to speak about it).
I use my camera with a Quick release L Plate holder: with this plate on, it is incredibly easy to fix the camera firmly on the tripod. But most of all, I love it because I do not have to touch my tripod for vertical shots... and (believe me) it is priceless, if you plan to do panorama shots, for example of the milky way!!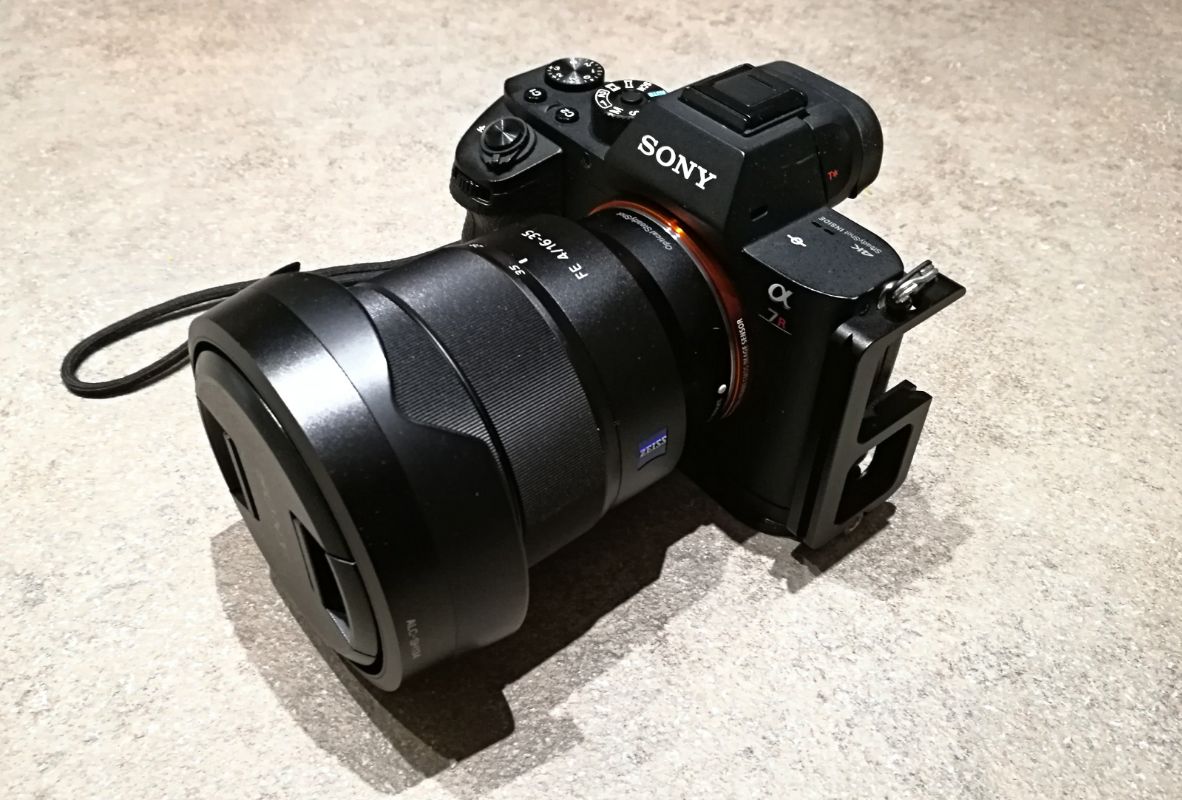 The lenses & adapter ring
When I switched to Sony from Nikon, I had to save money (because I am a poor guy... eheh), so I kept all my old lenses, and I used a very simple Fotodiox adapter ring. This adapter is very simple (no AF, no chip, etc) but it works very well: the infinity focus is perfect, and I can change apertures through a ring (that is even de-clickable). This is all I ask to an adapter (because I always focus manually!)
Step by step I sold my old lenses and bought E-mount ones (except for the Samyang Tilt/Shift, because the E-mount versions from samyang are exactly the same lens with a longer tube to simulate the adapter ring.. so it does not make sense)

Sony SEL1635Z
My work horse... my most used lens. Really sharp over all the range, with perfect contrast and colors.. good AF (I used it sometimes even for portraits), the chromatic aberration is nearly absent. It is a bit slow (f/4), but unless you are seriously into nightscapes, it is a really perfect lens. You can find this lens on Amazon.
I never had the chance to test the GM version, it is too expensive for me.. but I heard great things about it.
Venus Laowa 15mm f/2 Zero-D
The hyper fast! I got this ultra wide angle lens mainly for nightscapes, but as soon as I tried it I fell in love with it, and now I use it every time I need something wider than 16mm. what I love about this Venus Laowa:
* Zero distortion (as stated by the name)
* Dimensions (small, and specifically designed for my Sony E-mount)
* Aperture (f/2 is fantastic for nightscapes and to produce a marvelous bokeh)
* The ability to mount normal 100mm filtering system (it is a great money saving!)
* Overall quality (full metal, solid, great finishing)
The only things that could be better are:
* Not perfectly sharp at f/2 (but close down at f/2.8 and you are ok!)
* A little coma in the stars. A bit higher than the one of the famous Samyang 14mm
You can find it here.
Sony SEL 24-70Z and 24-240mm
I won't talk a lot about these lenses.. you can read a detailed comparison here. Anyway, just to summarize: I usually prefer wide angle lenses for landscape photography, but sometimes I need something to get closer. Sony 24-240mm is a good all-in-one telephoto lens, and its quality is acceptable (at least for me) in the mid-range. So, if you have to choose one second lens for your backpack, this can be a good choice. But remember the strong chromatic aberration!
Sony SEL 24-70Z is designed by Zeiss (and so it is way more expensive): in general I prefer this one for portraits or for not extreme close-ups, mainly because of the very low chromatic aberration and distortion. Keep in mind that, in my opinion, this lens is not at all up to Zeiss general quality...
You can get them here and here.
Samyang 24mm f/3.5 Tilt/Shift
Why the hell I own such a niche lens?! Simply because it is outstanding! It is Incredibly sharp, produces very clean images... but apart from the optical quality, what I really love is to be able to play with depth of field and converging lines: first, there are many ways to have an image in focus from foreground to background... **but the most efficient **one is to use a Tilt/Shift lens. No compromises. And speaking about converging lines.... well dudes, tilt/shift lenses are exactly built for this!
Samyang did great with this lens; I know it is a piece of equipment that I use not so frequently, and honestly... thanks a lot Samyang for having made a cheap one for us!
You can buy your own copy here (Nikon), here (Canon), or here (Sony)
Filter pouch
I did all my best to have 100mm filters only (this is the main reason I stopped using Samyang 14mm f:2.8). This way, a single filtering system fits all my lenses, and everything is kept inside a single filter pouch.
I went with a very simple one from Lowepro, with a belt loop. But honestly, after few weeks, I realized I didn't make the best choice: if hooked to the belt, it is quite uncomfortable to access the filters; and it is nearly impossible, if you are wearing a jacket or a winter coat!
I fixed the problem using a sling, but I suggest you to go directly with a different one (i.e. the Haida one with sling included).
Note: I strongly suggest you to take a pouch with enough room to keep both filters and the holder.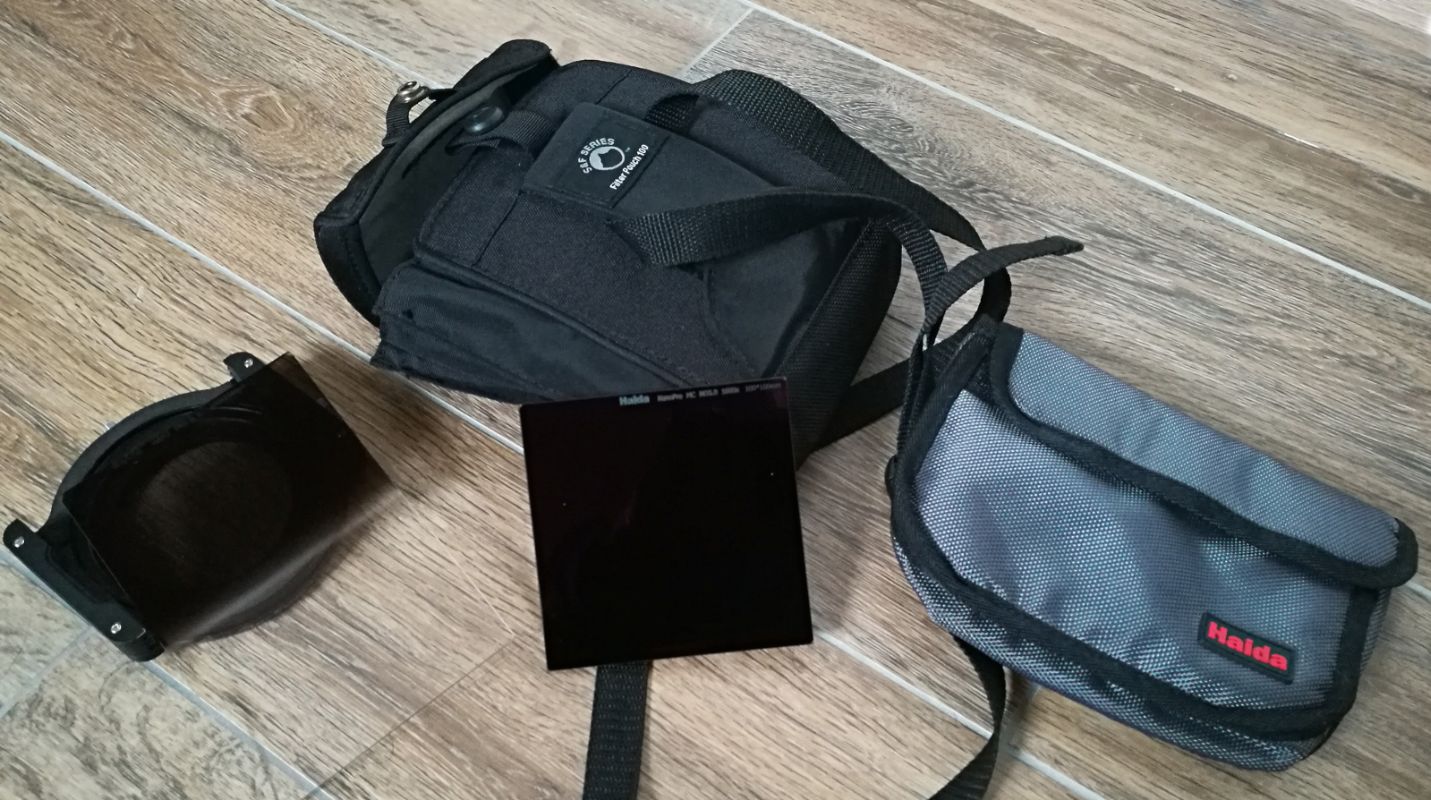 Filters & holder
As you probably know, Haida is my choice for high quality filters. Made by optical glass, the NanoPro series comes with the nano coating. Quoting the manufacturer:
"The Water Proof and Scratch Resistant Nano Multi-Coating is both an anti-reflection coating as well as a protective surface. It helps to increase light transmission by reducing reflections, scattered light, and ghosting. Additionally, it offers greater protection to the filter substrate and stays cleaner for longer than uncoated filters."
I could speak for an entire day about the importance of high quality filters (no color casting, great contrast, no vignetting, nearly-zero flares, etc), but here I prefer to tell you which one I chose:
* ND3.0 (the "big stopper", the ones I use most for fine art and silky effect
* ND1.8 (the "little stopper", perfect for enhance the wave game, and for dim light situations)
* GND0.9 hard edge (nothing better than a hard edge GND for seascape lovers!)
* GND0.9 soft edge (where the hard gradient is not the right choice)
* Clear Night filter (for nightscapes, where light pollution can't be avoided)
* CPL filter (to be used together with the 100mm Pro Holder)
Speaking about the holder, nothing better than the Haida 100mm Pro Holder. I already wrote a lot about this one, you can read and see the review here and here.
Remote
For me a remote shutter cable is absolutely fundamental! I love long exposures, so I need a remote for 2 reasons: to activate the shutter without touching the camera, and to do very long exposures, in bulb mode.
I went for a very cheap one, with many features (like interval shots, long exposures, back-lit LCD, etc).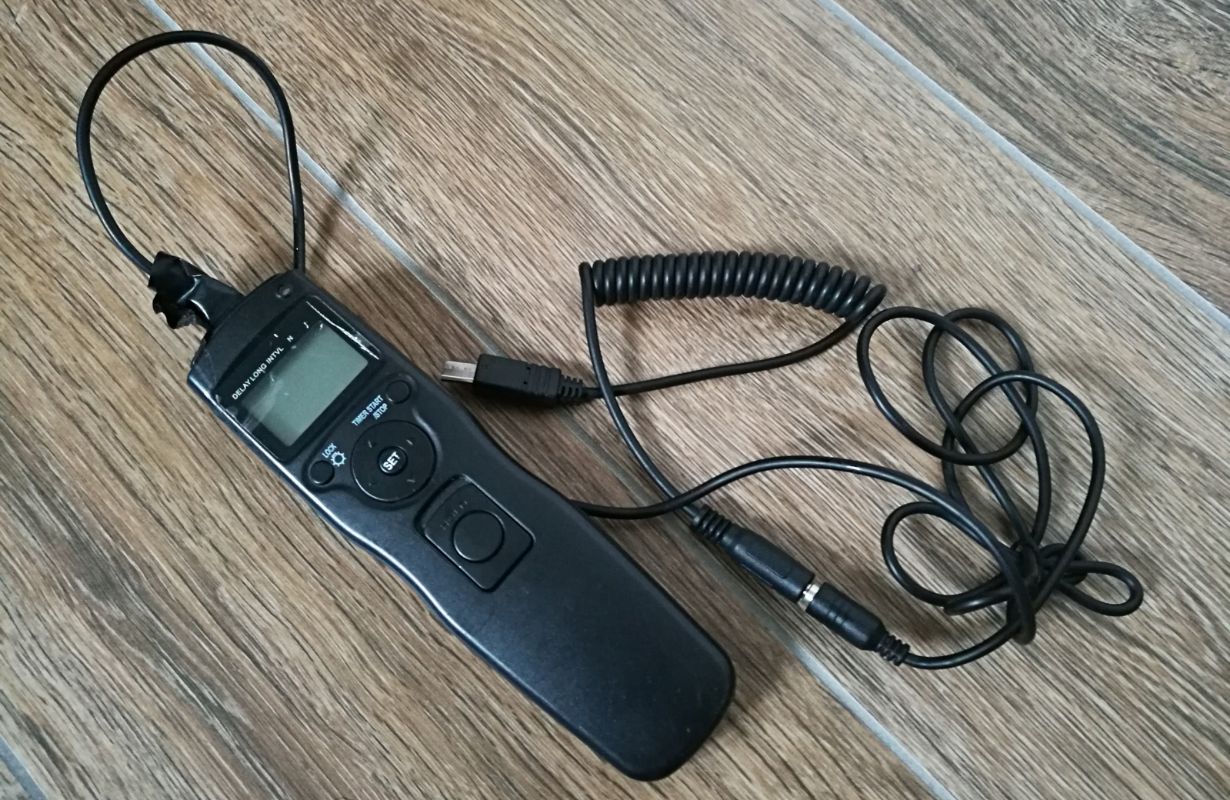 MicroSD cards and holder
My choice is to have many 32GB ones; I prefer not to go upper with capacity, because I know for experience that sooner or later a memory card will fail, and I prefer to have redundancy (and less data on a single, failed MicroSD).
Usually I go with SanDisk Extreme, but it is not mandatory...
To store them in a safe way I use this holder: sturdy and small, it is water resistant and helps you in not loosing your cards. A note: I tested some of them, but I never found one with a good retention of the cards. The producer says "Each slot is strictly tailored to fit the card perfectly and protects the cards from going around", but it is not true: as soon as you open the case, your SD will fall if you do not pay attention...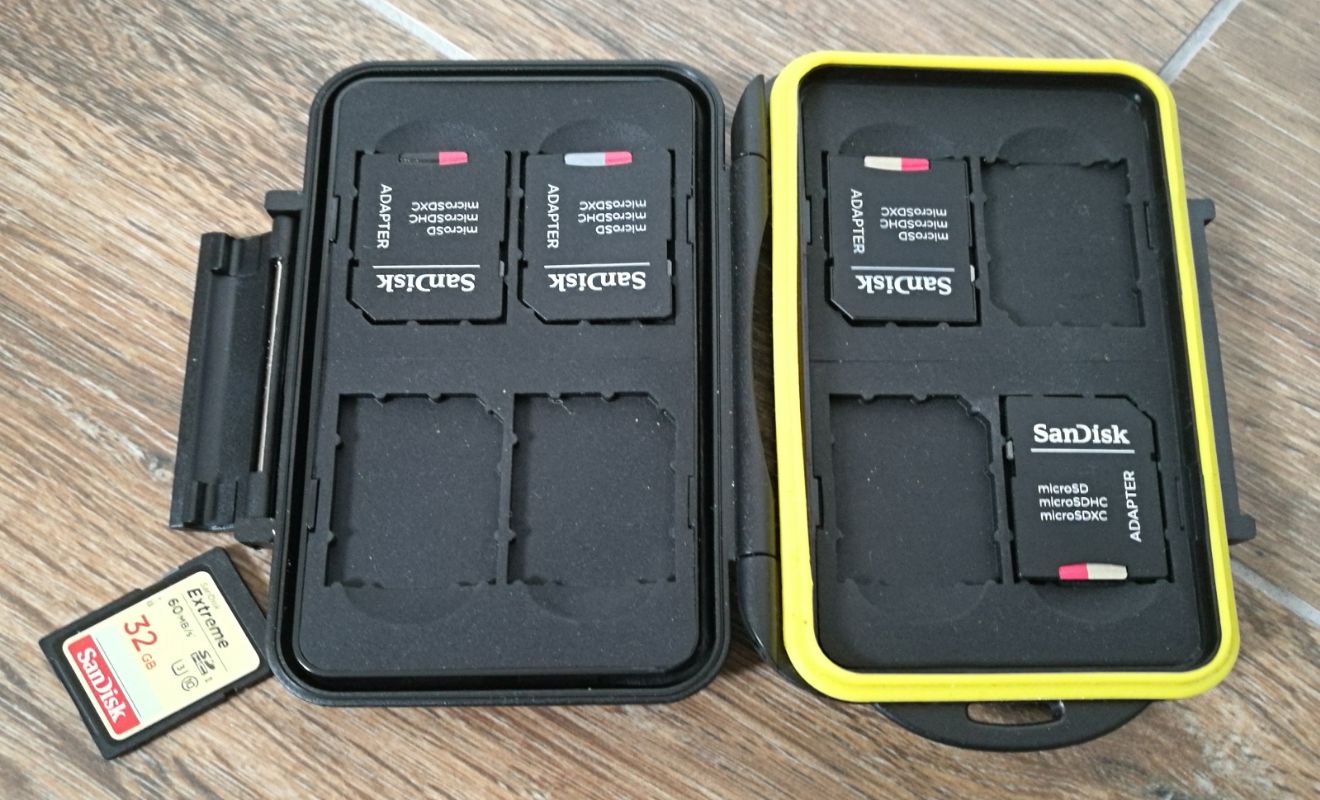 GPS system
I love to find unusual spots to take my pictures. Many times, I have to leave the car and walk a bit (one hour?) to get to the right place... and this is even more true in case you want to catch a nice milky way shot!
Believe me, it is not so easy to get back in the middle of a dark night, in those environments in which you do not have a clearly defined trail. So I always take with me my Garmin Foretrex 401 GPS.
It is not the easiest GPS to use, but you get used to it quite fast; it is easy to mark important points (like the car park, interesting point for future visits, etc), and there is an outstanding "track back" function that will bring you home following the previous walked track.
Note1: Why I do not use cartographic/graphical GPS. First, because I own this one that works great, so I do not want to change it. Second, because I prefer to have something tough and long lasting (my Foretrex works with 2 AAA batteries, and operates up to 40 hours. And believe me, it follows mil-specs!).
Note2: Why I do not use the XXX App on my smartphone. First because I tried them, and they use too much battery. The phone will run out of battery in less than 2 hours. Second, because when you are in the middle of nowhere, you'd better to stay on the safe side, and have two different tools to get back. Honestly I tried Alpinequest for Android, works great but I use it only for very small periods (10 minutes, if I need an hiking map).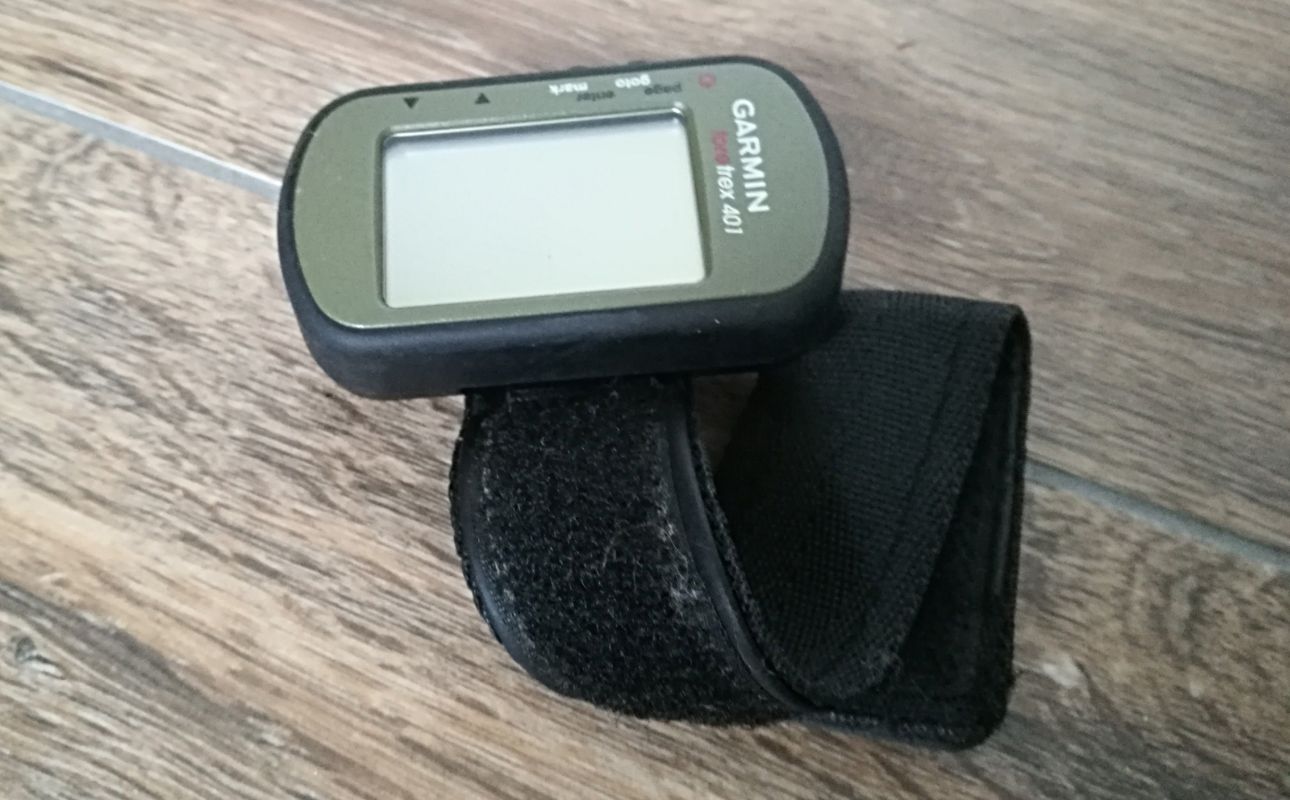 Miscellaneous
Other things that cannot be missing in a photographer's backpack.
* Dust cleaning tissues: impossible to leave without them! For dust, mist, water drops... I suggest you to have 2, because they can get wet
* A torch: a cheap headlamp is the best thing you can take with you. Perfect for the hiking, it leaves you empty hands for mounting/dismounting/operating the equipment. I suggest you to choose one with red light too, because it is preferable a red light for night use. But if you want to play around with light painting games, take a normal torch too (the headlamp is not so handy in this case)
* Spare batteries: both for the camera, for the remote, for the torch and for the GPS
* Haida "spider" lens cap holder: fantastic gadget to keep the cap on the lens, even with the holder on. I use it also on my 100mm system.
* Leatherman multitool: perfect for fixing many little problems on the field
* Black scotch tape: useful in many situation, also for taping camera and lenses in very cold environments (to avoid condensation inside the camera/lens)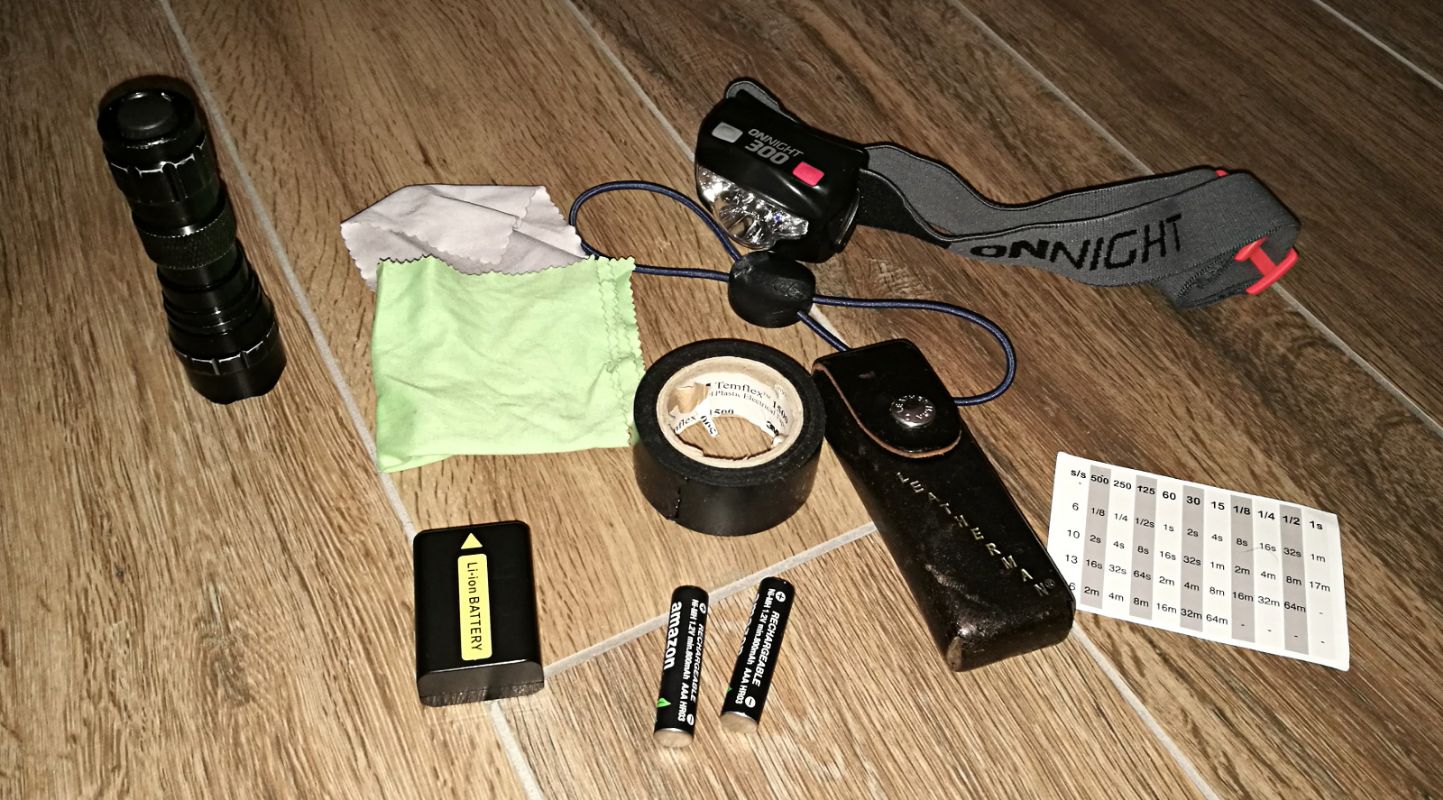 I hope you enjoyed my very long post...
Believe me: if you are looking for the game-changer solution for your photography, gear is not the right place where to look. But without doubts, the right equipment helps a lot in many situations.
---